With his explosive jump and superb movement, this magnificent stallion is turning heads for all the right reasons.
| Limoncello II | 2001 Holsteiner |
| --- | --- |
| Sex: | Stallion |
| Pedigree: | Online Pedigree |
| Color – Height: | Bay – 16.1 1/2 |
| Owner: | Wild Turkey Farm, LLC |
| Breeder: | Klaus Theidemann |
| Registration: | DE421000195001 |
| Stud Fee: | $1,800 USD |
| Semen: | Cooled |
| Bonits: | Type: 8 | Topline: 8 | Front Legs: 7 | Hind Legs: 7 | Walk: 7 | Trot: 8 | Canter: 8 | 53 Bonits |
| WFFS: | Negative |
Wild Turkey Farm Welcomes Limoncello II
Limoncello II is by the international Dressage stallion Lorentin I. Limoncello's mother, Arina, by Capitol is a most important dam. She is also the mother of Lasino who has produced international show horses.
From the stallion book of the Holsteiner Verband: "The last years have shown that today Ladykiller x Cottage Son have succeeded in establishing themselves over the generations. It is because of that remarkably good heritage that we have access to a stallion like Limoncello II."
Limoncello II has a super jump and and is an outstanding mover.
Limoncello is licensed with the Holsteiner Verband, American Holsteiner Horse Association (AHHA) and the Oldenburg GOV.
Limoncello II ( Lorentin x Capitol I)
Holsteiner Stamm 2543
Limoncello II is a great all-arounder. His sire Lorentin competed at Grand Prix dressage with Wolfgang Schade and his motherline produced several Grand Prix jumping horses. In Germany, Lorentin produced 17 horses who jumped at 1.40m level and higher and 17 advanced level dressage horses.
Limoncello II has already produced some international jumping horses: Vaira is a 1.50m jumping horse, Limouchello is a 1.50m jumping horse, and Coco Colette is a 1.60m jumping horse. His approved son Le Toquet comes from his first foal crop in 2005.
His full brother, Limoncello I, has produced two advanced level dressage horses in Germany.  Half brother to both Limoncello I and II is Lasino (by Landgraf I). For many breeders outside Holstein, Lasino was unknown until the Olympics of 2008 in Hong Kong, where he had three offspring. Le Beau was competing there for Norway with Stein Andresen.  Leconte with Matt Williams for Australia. Germany had as reserve Lord Luis with Alois Pollman Schweckhorst. Their half sister Olivia II (by Lansing) produced the 1.50m jumping horse Cordalis (by Corrado I), half sister Ina III (Barnaul xx) produced the 1.50m jumping horse Nina 328 (by Contender).
Limoncello's grand dam Svettana produced several daughters from the line from her daughter Zetta (by Caletto II) that are devloping into international showjumping horses: Bockman's Looping (by Lasino) 1.50m, Cora Quick (by Quidam's Rubin) 1.60m, Quitus (by Quinar) 1.45, Carla Colucci (by Cassini I) 1.50m, Costa del Sol (by Cassini I) 1.50m, CP Qualified (by Quite Capitol) is an CCI4* eventing horse and qualified for the World Equestrian Games in Normandy, France in 2014, Quinta (by Quintero) 1.55m, Boritas (by Baldini I) 1.50m, and Galante HU (by Galant du Serein) 1.50m.
From the branch of Svettana, her daughter Corlin (by Casino Boy xx) has produced: Acasino B (by Acadius) 1.55m, Dr. Oklund (by Oklund) 1.60m, Charlette (by Calido I) 1.50m.
From the branch of Svettana's daughter Hera XVI (by Landgraf I) comes: Calmond (by Clarimo Ask) 1.50m. And the branch of Svettana's daughter Indira X (by Cor de la Bryère) has produced Dicasi OH (by Diamant de Semilly) 1.55m.
Exclusion dates for shipped semen
**July 3: counter to counter, only
**July 4: no collections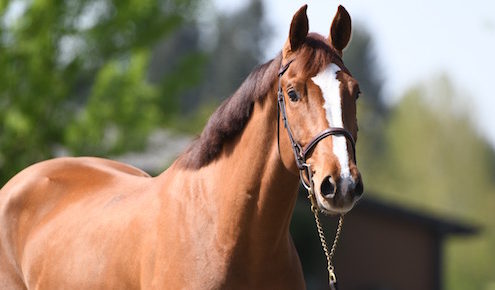 Limoncello II x Coriander x Langata Express
2015 Holsteiner Mare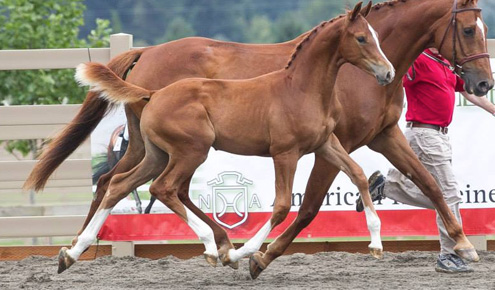 Limoncello II x Coriander x Langata Express
2013 Holsteiner Mare