Our qualified team is committed to bringing superior service on every level to the Warmblood breeding community.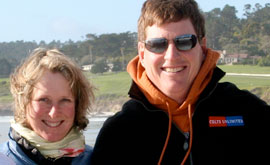 Hilary and Charlie Carrel, Young Horse Trainers

Colts Unllimited
Hilary and Charlie Carrel, owners of Wyoming-based Colts Unlimited, bring a lifetime of colt starting knowledge to the Wild Turkey Farm program. Their team has established solid foundations on literally thousands of horses for top riders in all disciplines ranging from Grand Prix jumpers, dressage, hunters, polo, driving, professional rodeo and the AQHA and APHA show circuit. They operate with the belief that that good horses come from quality miles, a relaxed frame of mind and confidence in knowing their job.
Hilary and Charlie Carrel
The Colts Unlimited team takes our youngsters as two-year-olds (almost ready to turn three) and spends the next year teaching them the basics from how to stand in the cross-ties to being backed for the first time. They do a phenomenal job in making sure that they return to us as confident, good-minded horses ready to continue on with their education.
Visit Colts Unlimited at www.coltsunlimited.com