Proven sporthorse mares chosen for their wonderful minds, outstanding athletic ability
&

impeccable lineage.
| Felina | 2013 Holsteiner |
| --- | --- |
| Sex: | Mare |
| Sire: | Casall |
| Dam: | Athene IV |
| Pedigree: | Online Pedigree |
| Color – Height: | Bay – 16.3hh |
| Owner: | Wild Turkey Farm, LLC |
| Registration: | DE421000026413 |
| Stamm: | 776 |
| Bonits: | Type: 8 | Topline: 7 | Front Legs: 6 | Hind Legs: 6 | Walk: 7 | Trot: 8 | Canter: 7 | 49 bonits MMP |
Casall is one of the best jumping horses of the last decade. Rolf-Göran Bengtsson and Casall have been a dream team. His offspring are competing oft in the same classes as Casall. Bred and competing for top level he is also producing for top level.
Felina is a 2013 mare out of the mare Athene IV. Her offspring are still very young.
Great-grandmother Athene VII (Athlet Z) produced the 1.50m jumping horse Royal Baby (Rocadero) with Miguel Viana.
Great-great-grandmother is Mareika, who jumped at 1.45m with Werner Peters. Her daughter Classica 7 (Calypso II) jumped at 1.40m with Volker Lehrfeld.
Mareike has three approved full brothers Calvados I/II/Corde and one approved halfbrother, Crack (Corrado I). Her full sister U Classic competed at 1.40m with Werner Peters and produced Hepburn (Acord II) who was an international jumping horse with Herbert Blöcker. Also the Holsteiner approved and 1.60m jumping horse Livello (Limbus) with Cameron Hanley comes from this direct motherline.
**SOLD** Congratulations to Anna Bennett and Alpenglow Stables LLC (Cle Elum, WA) on the purchase of Felina! We know she will be a wonderful addition to your breeding program.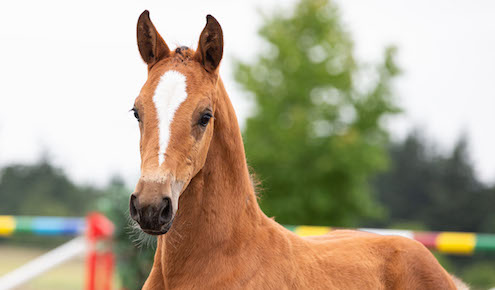 Billy Mexico x Casall x Cayado 2021 Oldenburg Filly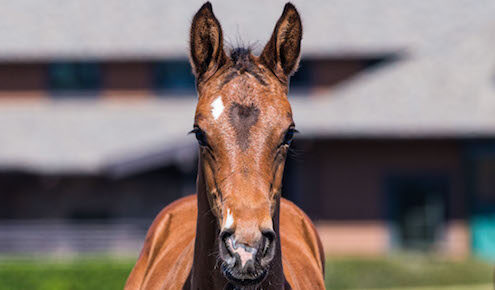 Clintord I x Casall x Cayado 2020 Oldenburg Filly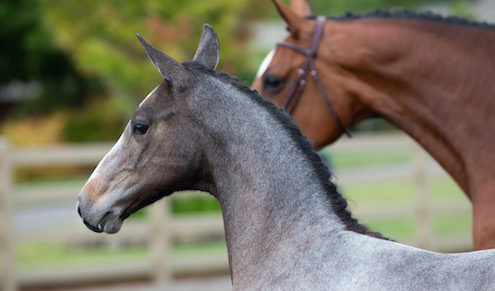 Conte Della Caccia x Casall x Cayado 2019 Oldenburg Gelding