The stallions of Wild Turkey Farm – truly the most beautiful turkeys in the world.
| Coruscant | 2011 Holsteiner |
| --- | --- |
| Sex: | Gelding |
| Pedigree: | Online Pedigree |
| Color – Height: | Dark Brown – 16.3hh |
| Owner: | Wild Turkey Farm, LLC |
| Breeder: | Manfred Johannsen |
| Registration: | DE421000038711 |
| Stamm: | 569 |
| Semen: | Frozen |
| Bonits: | Bonits: Type: 8 | Topline: 8 | Front Legs: 7 | Hind Legs: 7 | Walk: 8 | Trot: 8 | Canter: 8 | Total Bonits: 53; Reserve Champion |
| WFFS: | Negative |
Coruscant (Connor x Cristo)
Holsteiner Stamm 569
Coruscant is a 2011, 16.3hh gelding. He is a lovely, modern type, brave jumper with scope and a beautiful style. He loves to jump and would make a very nice equitation/jumper prospect.
***
Coruscant was purchased at the 2013 Holsteiner Verband Annual Stallion Approval and Auction where he was awarded Reserve Champion. Coruscant stayed in Germany for 2014 and completed his 70-stallion test at the Holsteiner Verband. He received high scores (9s) for rideability and temperament.
Judge's comments from the Holsteiner Verband Stallion Approval:
"An enormously nice type of Holsteiner stallion that increased his presence at every performance. The classical presence of this Connor son since his first selection taken an incredible positive development so the he presented himself as a perfect type.
The correct confirmation gives him a beautiful physical appearance. His movement shows the suppleness of his gaits and his good interior. The walk is exceptional, the trot and canter show great elasticity and the stallion shows a natural talent over the jumps.
He responds with great confidence around his environment and confirmed the quality of his mare stamm 569. The stamm of the stallion Quintero, Lamour and Akinos."
Coruscant (by Connor) was first reserve champion at the Holsteiner stallion approvals in 2013.
Coruscant's sire Connor is a very interesting son by Casall Ask, out of the full sister to Corrado I (by Cor de la Bryère). He jumped at 1.45m. So far he has seven approved sons for the Studbooks: Holsteiner Verband, Mecklenburg Vorpommern, Oldenburg International and Zangersheide. He is the combination between the two top producers Casall Ask and Cor de la Bryére. Corrado I jumped at 1.60m with Franke Sloothaak.
The mother of Coruscant is the 2009, State premium mare Zornmutige (by Cristo).
Coruscant's grandmother Lamina I (by Sir Shostakovich xx) competed at CIC*** international level with Inken Gräfin von Platen Hallermund. She is half sister to Chap (by Clearway) who jumped at the 1.40m level.
Coruscant's great grandmother Galuta's full brother is Crunchy Nut (by Corrado I) who jumped at 1.50m. Galuta also produced the 1.50m jumping horse Libelle DH (by Limbus).
Coruscant's Stamm 569 also produced stallions like: Liguster (by Landsturm), Nocturn (by Ladykiller xx), Lamour (by Ladykiller xx) and the 1.60m jumping horses Quinara Z (by Quinar) and Caliber (by Cassini I).
Exclusion dates for shipped semen
**July 3: counter to counter, only
**July 4: no collections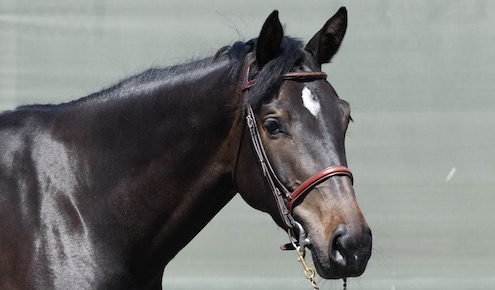 Coruscant x Catoki x Cassini II 2019 Oldenburg Mare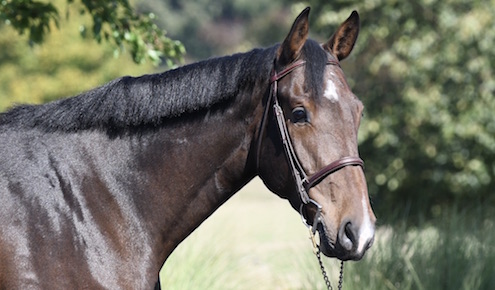 Coruscant x Coriander x Langata Express 2017 Holsteiner Gelding